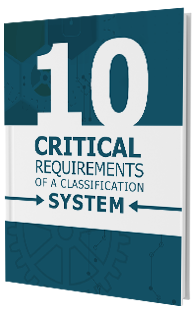 Any company that needs to prioritize requirements for a classification system proposal should read this top ten list.
---
Some Critical Requirements of a Classification System
Flexible category management allowing robust and quick changes to the classification structure. A robust classification structure takes time and is often an iterative process, so changing the classification structure needs to be easy and efficient.
Flexible attribute management to manage attributes globally and at the category level. Classification schemas often have attributes which are relevant across multiple categories, so it is important to be able to add and modify attributes across multiple categories. The attribute management needs to be flexible enough to also customize an attribute for a category, such as changing the unit of measure for the attribute at a specific category.
Download the full list by filling out the form.